50 years of collaboration and innovation
Today, April 10 Hoogendoorn celebrates its 50th anniversary. To mark this milestone, Hoogendoorn launches a short video introducing the youngest future CEO in horticulture and a special anniversary magazine. Hoogendoorn considers the future so important that they're already working on the future CEO now. This is captured in a short video.
Who's this new future CEO?
Watch the video now.

Download the special Hoogendoorn anniversary magazine.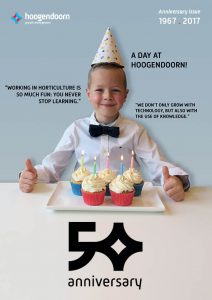 Moreover, the company revealed a special Hoogendoorn '50 years logo' in their communications and free workshops are organized for customers. During this year, more activities to celebrate it's 50th anniversary will follow. Stay up to date via the Hoogendoorn newsletter or visit www.hoogendoorn.nl.
"We thank everyone who's been a part of our success and look forward to taking further steps with our customers and partners in continuing towards an even more sustained food and flower industry" says Martin Helmich, Director Sales & Marketing.