On Tuesday May 15, 2018, South Holland province and Hebei province officials visited the vegetable greenhouse complex CAU Futong Nanhe Industrial Cluster. The greenhouse complex is located in Xingtai city, in the northern China Hebei province. During this official event, Hoogendoorn Growth Management, was one the of the keynote speakers. Martin Helmich, emphasized in his presentation that the CAU Futong project is a great example for China in terms of safe food and sustainable production due to the use of modern automation and irrigation technology. To give you a glimpse of the project, it has been captured on video. Watch this new video now.
Safely produced vegetables in northern China
The demand for safely produced food is ever-increasing, which raises a challenge for greenhouse vegetable production worldwide. In one of the world's largest countries, China, securing food safety is even a bigger challenge. The aim of the CAU Futong project is to make a tangible contribution to the growing demand for safely produced vegetables in northern China.
To increase both the quality and quantity of crop, CAU Futong uses reliable intelligent systems and automation from partners Hoogendoorn Growth Management and Codema Systems Group to manage their greenhouse complex.
Watch the video here.
Dutch-Chinese cooperation
For years CAU Futong and Hoogendoorn have successfully collaborated in realizing Futong projects in China. This new project has been put into operation by Dutch and Chinese engineers of Codema and Hoogendoorn in collaboration with the engineers of CAU Futong. In addition, training was provided for the operation of the systems.
The CAU Futong greenhouse complex comprises a total of 11 hectares for the production of tomatoes (5 ha), cucumbers (3a), bell peppers (2 ha) and a 1-hectare propagation area for young plants and seedlings. Their vegetables are delivered to high end supermarkets in large cities that include Beijing, Tianjin and Shijiazhuang.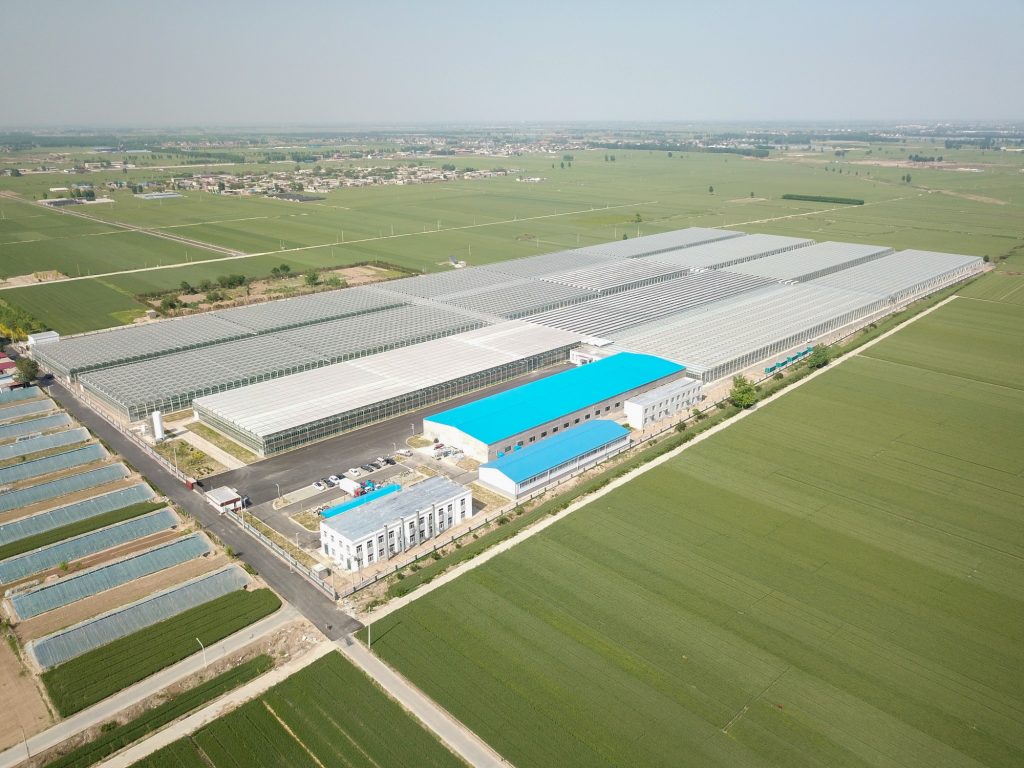 Made in Holland technology
As the climate in northern China tends to be dry, making smart use and re-use of water, but also fertilizers, is vital. With the water and LD-UV units, large quantities of water are disinfected using UV light. The liquid fertilizer unit enables correct quantities of nutrients to achieve growth. Moreover, an ebb and flow system was installed in the propagation area for seedlings. All these systems that are used to manage water, climate and energy are being controlled by Hoogendoorn's next generation iSii process computer, which is available in the Chinese language. This enables the  CAU Futong greenhouse project to realize a stable growth climate and accurate irrigation and energy control.
By monitoring and controlling factors such as greenhouse climate, water and energy, which impact crop growth, quality and production, The CAU Futong greenhouse project contributes to a sustainable use of resources.
In addition, with the wireless Hoogendoorn Work-IT system, The CAU Futong greenhouse project is also able to manage labor and production by data monitoring via smart phone. Real-time information about e.g. staff performance, planning, payroll administration, quality and stock is combined. With the use of Work-IT the overall labor effectiveness in the greenhouse can improve up to 30%. Besides, with the integrated track and trace, The CAU Futong greenhouse project can comply to the growing demand of conscious Chinese consumers who want to know all about the quality, origin and freshness of the purchased products.
More information?
Main office (The Netherlands)
T: +31 (0)10 460 80 80
info@hoogendoorn.nl
Office in China
T: +8610 65016548
info@hoogendoorn.asia