Hoogendoorn Growth Management is proud to share our partner Rufepa TECNOAGRO realized a greenhouse of more than 12,000 square meters in Sharjah, the United Arab Emirates. The facility was built on behalf of His Highness Sheikh Dr. Sultan bin Muhammad Al Qasimi, Supreme Council Member and Ruler of Sharjah. The Minister of Agriculture of Murcia, Spain, Antonio Luengo, officially opened the greenhouse. Our colleagues Fouad Ababou and Angela Barendregt visited the unique building before the grand opening. They had a chance to witness the cultivation of the first tomato plants and the usage of our installed process computer.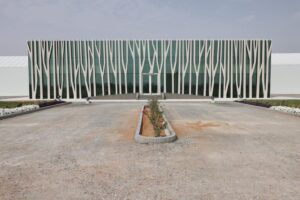 The entrance of the greenhouse
The greenhouse has a cellular polycarbonate roof made up of two cultivation sectors separated by a mesh-covered corridor (where the air is captured for the cooling system) and a service area for supporting equipment made of a tubular structure and a sandwich panel roof. The entire system is controlled by our process computer. The aspirator boxes that measure temperature and relative humidity sensors are connected in each sector, as well as the sensors of the weather station that measures outside solar radiation, wind speed and direction. The process computer can pro-actively control the local climate.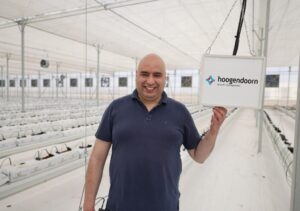 Fouad Ababou (Area Manager Sales at Hoogendoorn), with our aspirator box.
The project aims to create developmental and agricultural communities and produce high-quality organic agricultural products and will make it possible to deal with today's challenges, such as water scarcity. The significance of greenhouses is highlighted as "one of the most important modern technologies that have succeeded in providing suitable growth conditions, protecting crops from weather fluctuations and pests, and helping to produce various types of agricultural products in abundance and off-season".
During the opening, Antonio Luengo said they "are proud to see that our innovative technology for irrigation water management offers an effective solution in extreme situations of water scarcity. It is the best incentive to continue investing in modernization and technology".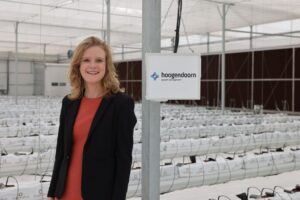 Angela Barendregt (Projectmanager International Business & Strategy at Hoogendoorn) at the greenhouse facility, together with the Hoogendoorn aspirator box.