Is it possible to grow a high-quality tomato in places with an extreme climate? For example, where the outside temperature is exceptionally high and the presence of natural resources, such as water, is nil? The answer is; yes! With the right equipment and expertise in-house, this is certainly possible. Hoogendoorn Growth Management has been making this possible for growers in these regions, such as the Middle East, for many years now.
Increasing demand for local food
More and more often we see large greenhouse complexes emerging in the desert. In the Middle East, in particular, this is no longer a thing of the future. Even though growing conditions in this region are less favorable, the demand for local production is higher than ever. Certainly, due to the impact of Covid-19 on the world, it has become clear that growing food locally and being less vulnerable to import is essential. Net greenhouses, plastic tunnel greenhouses, and glass greenhouses have been popping up like daisies for several years now.
The major challenges
But growing vegetables in regions such as the Middle East faces major challenges. Extreme temperatures are the rule rather than the exception. In the winter we talk about temperatures between 25 and 30 degrees. Then growing in plastic or net greenhouses is quite possible, but in the summer months, the temperature can rise to plus 40 degrees. When one considers that a tomato thrives best at a temperature between 18 and 27 degrees, it is easy to conclude that these extreme temperatures do not contribute to an optimal climate for the plant. In addition, there is often a shortage of water and salinization of water in this region. This is considered the biggest problem regarding horticulture in this region. It is important to anticipate this now by doing things differently already. One must have a good understanding of what it takes for a plant to grow well, but also keep the environment in mind. Grow more with less, for a sustainable future.
Knowledge and technologies appropriate to each type of greenhouse
To create an optimal growing climate in a Middle Eastern greenhouse, it is necessary to have the right technologies in place. An advanced automation system that focuses on climate, water, and energy management can make it as comfortable as possible for the plant. In addition, this means that cultivation can be more precise and that natural resources such as energy and water are used as little as possible. Only using what the plant really needs is the guiding principle.
In the Middle East, many crops are grown in plastic tunnel-shaped greenhouses and net greenhouses. When it comes to net greenhouses, it is especially important to strive for proper monitoring of what happens in the greenhouse during the cultivation process. This can then be used to actively steer (or adjust) the crop. Data collection and monitoring in a clear dashboard, for example via LetsGrow.com, offer an easy solution and make optimal cultivation possible.
In plastic greenhouses, it is already easier to create an optimum climate with the help of a climate computer and the right angle of approach for cultivation. The principles of Plant Empowerment can be the guiding principle here towards a resilient crop. But for both of these types of greenhouses, it can be too hot in the summer months.
A climate-controlled glass greenhouse offers solutions
In this case, one can grow more accurately in a glass greenhouse. This is because the temperature in a glass greenhouse can be controlled more precisely, by cooling the air in the greenhouse while using for example a Pad & Fan system. In the Pad & Fan system, the dry air from the outside is humidified via a Pad wall, which removes the heat from the air. The air cools down and is then blown into the greenhouse. The result is a cooler greenhouse and a more optimal growing climate for the plant.For this reason, the production per m2 in glass greenhouses can be three times higher than in a plastic tunnel greenhouse. The best type of greenhouse and de technologies that you need for optimal growth depends on several factors. For example, the location of the greenhouse or what crop you want to grow.
A smart process computer that gives you insights
Ultimately, it all depends on gaining the right knowledge combined with the best suitable technologies for your greenhouses. Whether you are an experienced grower or not. Ultimately, it starts with understanding what is happening in the greenhouse. Especially if there is little cultivation experience, a process computer combined with the right training will make sure that you get that information and that you know how to interpret it. Also, an easy-to-understand dashboard that one can also easily edit and modify to one's liking, contributes immensely to a better understanding of the activities in the greenhouse.
For example, how much water is used and what the quality of this water is, by looking at the PH value or by measuring how much sunlight enters the greenhouse. A user-friendly system that tells you exactly what is happening in the greenhouse and automatically responds to, is a good solution for any type of greenhouse.
For many years Hoogendoorn Growth Management has been providing solutions and training for growers of any kind and for any type of greenhouse around the world.
Curious about growers from the Middle East who use a Hoogendoorn computer such as an iSii or IIVO? Read here the stories of Armela Farms and Al Mallouhi.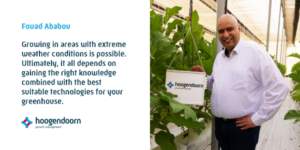 Fouad Ababou (Area Manager Sales, MENA Region)